Springtime is full of opportunities for exercise, races, adventures. Whatever you choose to participate in, make sure you put optimal nutrients in your body for optimal results! Here are a few tips for eating healthier.
1. High quality, nutrient dense, organic: whatever you choose to eat go for these three types of foods if you can get them (for example, rather than choosing a snack of crackers or chips, choose some nuts and seeds, or nut butters, hummus and vegetables).
2. Everything in moderation – this includes coffee, tea, alcohol (yes, even a glass of red wine every now and then has been shown to have beneficial results on reducing cardiovascular risk in some persons). Providing you don't have other health risks these items can have a beneficial result for many.
3. Pre and Post workout – ensure that you are well-hydrated before, during and after your workouts (if you are exercising very intensely for a long period of time come talk to me about how to compensate for this). Also, make sure you are eating a snack 30 minutes or so before you workout to ensure you have enough muscle energy available to use during that workout. After the workout ensure that you EAT (protein and carbohydrates – ie wild salmon, vegetables, rice or quinoa if that works for you) and DRINK (water preferably, or diluted juices).
4. Fats – they're GOOD for you!…providing they're from good sources. Look for organic butter if you use it, avocados are great, coconut oil for cooking (try not to cook at high heat with olive oil as it oxidizes quickly at those temperatures – not a great thing). Avoid margarine if you can.
5. Avoid REFINED foods – again in moderation, but this is a pretty good rule to follow if you want to stay healthy, lose weight, live longer (or at least do your best at it). A quick tip is when you're grocery shopping go around only the outside of the store (avoid the aisles in the middle) as you'll find the healthier items around the circumference: produce, meat, grains, etc.
6. Enjoy! – Have a smile on your face, no matter what you're eating. It's supposed to be fun!
Stay tuned for more info as we continue on our road to Spartan/Tough Mudder/Better overall health! As always, if you've got questions or need clarification for anything nutrition or health-related, consult your local naturopathic physician or healthcare practitioner.
– Dr. Matt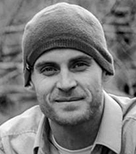 Dr. Matt Greenwood, ND, is a family naturopathic doctor based in South Surrey, British Columbia, who focuses on gastrointestinal and brain health. Learn more about Dr. Greenwood or follow him on Twitter: @doctorgreenwood